Heinrich August Marschner
(1795-1861) He was born in Zittau, Germany. His father was a Horndrechsler, a craftsman who made items of horn or ivory, but was a man who also had an abiding interest in music, and allowed his son the liberty to develop his considerable talent. A meeting with a Hungarian nobleman, Count Thaddaeus Amadée de Varkony led to an attempt to induce Beethoven to accept Marschner as a pupil, in 1815. The following year Marschner became music teacher in the household of Count Johann Nepomuk Zichy, whose principal residence was in Pressburg (the modern Bratislava). There he undertook further study with Heinrich Klein, a leading figure in the music of the place. It was in Pressburg that he turned his more serious attention to the theatre with an opera,
Der Kiffhäuser Berg
, based on a Thuringian legend, a magic opera in the then currently popular style, but following Weber's example in using folk narrative material. In 1817, marschner married, and became a widower within months, his wife dying of gangrene. Throughout his life, he was married three more times. Another opera,
Heinrich IV und Aubigné
, had some success in Dresden, where Marschner settled in 1821, without immediate employment.
The first theatre commission Marschner undertook in Dresden was the composition of incidental music for Kleist's play,
Prinz Friedrich von Homburg
, and this was followed by music for an unsuccessful Volks-Trauerspiel,
Schön Ella
, a work that relied heavily on the archetypal German romantic ballad, Lenore. In Dresden, he met Weber, and in 1823 was appointed his assistant, although Weber had hoped to offer the position to his friend Johann Gänsbacher, to whom he was under some obligation. Relations between Weber and Marschner were never smooth, and the latter seemed to resent the obvious musical and dramatic influence that Weber perceptibly had on his own work. In 1824 Marschner became director of the German and the Italian opera in Dresden, undertaking, as he complained, most of the duties of Weber and of Morlacchi, the superintendent of the Italian opera. Marschner's second wife died in 1825; Weber died in June, 1826, and Marschner, unsuccessful in his petition to the court for Weber's position, resigned, travelling first to Berlin, then to Danzig, where he had a six-month contract at the opera, writing the two-act
Lukretia
, the title rôle being performed by his new wife, Marianne.
In 1827 Marschner returned to Leipzig, where his opera
Der Vampyr
, a subject of topical interest, won success. This was the first collaboration with his brother-in-law, Wilhelm August Wohlbrück, which was to continue through many of Marschner's most successful theatre works.
Der Vampyr
was followed by an opera derived from Sir Walter Scott's Ivanhoe,
Der Templer und die Jüdin
. Four years later he was successful in his application for the position of Kapellmeister in Hanover, a position he retained, in spite of difficulties, for the rest of his career. In 1833 He achieved his greatest success with the opera
Hans Heiling
, a work that established him as the leading proponent of German romantic opera. Subsequent dramatic works met varied reception, although his achievement was widely recognized. His most successful opera,
Hans Heiling
, follows the example of Weber's
Der Freischütz
, but in form exercised a strong influence on Wagner. In harmonic language Marschner was adventurous, and in
Hans Heiling
he provided a new rôle for the operatic baritone, as demon-king. The work has a clear influence on Wagner's
Der fliegende Holländer
both in narrative and in certain elements of detail.
Though he considered himself primarily a composer of opera, he wrote many lieder, seven piano trios, and two piano quartets. These did not escape the notice of Robert Schumann, who praised the piano trios lavishly and for good reason. Marschner did not just toss off these works as an afterthought but clearly devoted considerable time and effort writing them. He gave the title "Grand Trio" to each of his works for piano, violin and cello, indicative of the importance he attached to them. In these fine works, one finds all of the emotions prevalent in the romantic movement during the mid-19th century expressed in a fresh, original and captivating manner.
Opera Stanford
Der Vampyr
, gran ópera romántica en dos actos (1828).
Fragmento
del acto primero.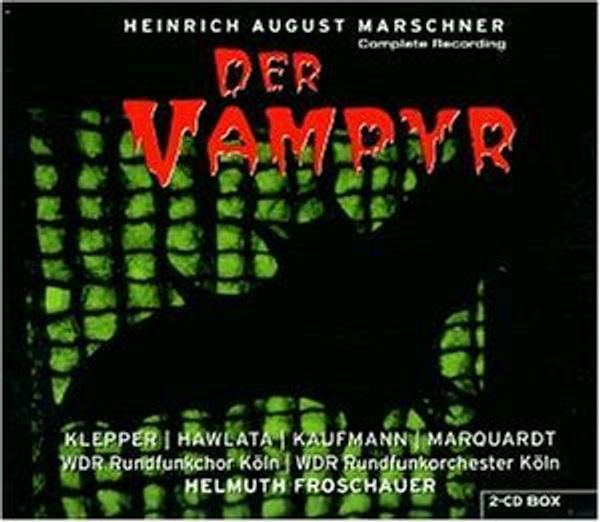 Hans Heiling
, ópera romántica en tres actos y un prólogo (1832).
Comienzo
.